Once upon a time there lived seven sisters: Maia, Electra, Alcyone, Taygete, Asterope, Calaeno and Merope. They were the hunting companions of the goddess Artemis. One day all seven were playing in a secluded glade in the forest. Their laughter rang merrily through the trees for they thought they were alone. They didn't know that close by the valiant hunter Orion was hunting for a deer that had been eluding him for quite a while.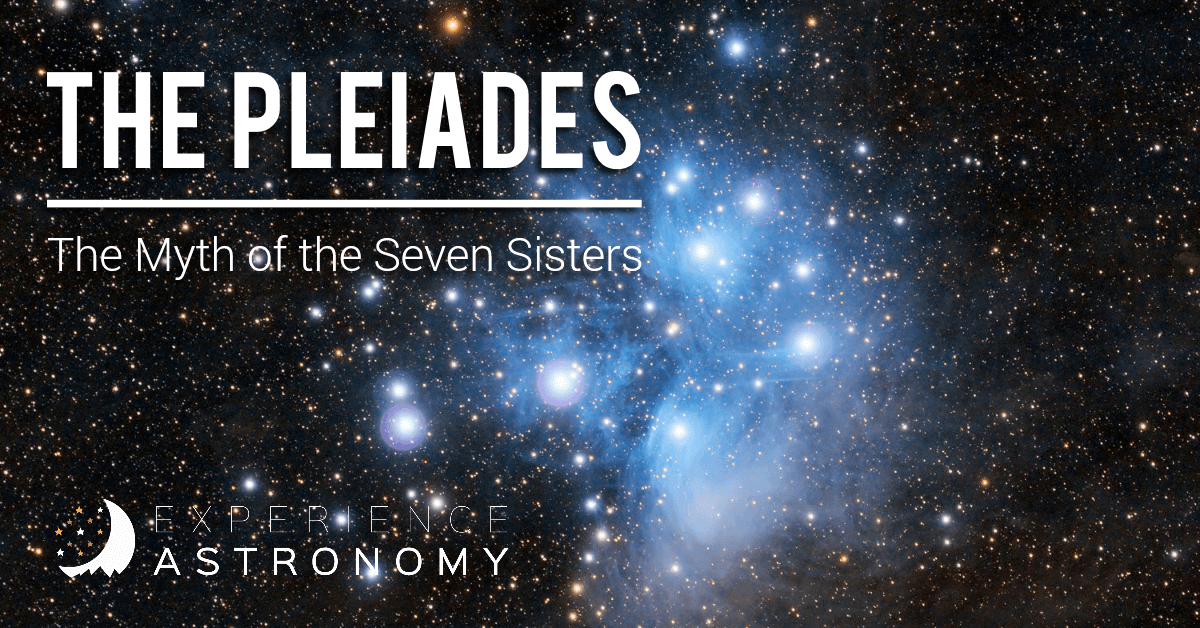 "He may be smart," Orion muttered, "but he can't hide forever!"
He was wandering through the woods when he heard laughter coming from the seven hidden sisters.
"I wonder who that could be?" Orion thought and he quietly stepped into the glade and saw seven of the most beautiful maidens playing innocently by a small stream.
"What goddesses you all are!" Orion cried in delight.
This startled them and they all turned and saw Orion.
"Run!" Merope yelled and they all began to flee.
"Wait! Don't go!" Orion called and he began to pursue them, but alas he lost sight of them and they escaped through the trees.
But Orion would not give up. "I shall find those fair maidens. I swear it!" he called determinedly to the sky.
From then on, Orion interrupted every hunt that Artemis and the sisters went on. He chased them relentlessly. This went on for seven years with the seven sisters always on the run from Orion and as each year passed, Artemis got angrier and angrier with every ruined hunt.
Finally, she couldn't take it anymore. "I will stop his interfering once and for all!" she vowed and set off for Mt. Olympus to talk with Zeus.
Upon arriving, Artemis explained her situation to Zeus. "He always ruins our hunts! Please protect my companions! I beg of you!"
"Hmmm. I shall consider your request." Zeus replied and he dismissed her.
He sat brooding on his throne when he got an idea.
"Ha," he chuckled. "I will humor Artemis' wish!"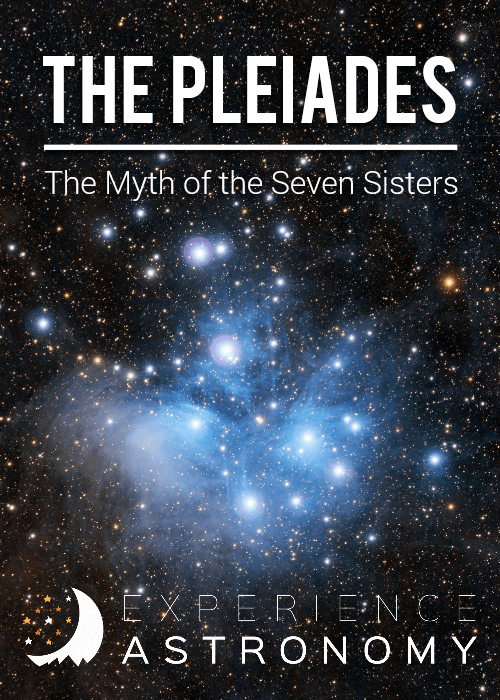 So the next time Artemis' and the sisters' hunt was cut short because of Orion, Zeus put his plan into action. He turned the seven sisters into pigeons and they soared into the sky with Artemis and Orion looking on. When the seven birds had flown almost too far away to be seen, Zeus changed them into stars. Artemis was furious at losing her companions and went off to talk to Zeus again.
"That is not what I wanted!" she cried. "Now I won't get to see them anymore!"
"Of course you will," Zeus consoled. "You're not just the goddess of the hunt, remember? You're also the goddess of the moon. Which happens to pass by your companions regularly, so you will be able to visit them often."
Artemis had to content herself with that. And that is how the seven sisters became the group of stars known as the Pleiades.
---
This article was written by Bethany, 13, an Experience Astronomy student from Charlotte, North Carolina.