A long time ago in the wondrous land of Ethiopia, there lived a king whose name was Cepheus. He cared about his subjects and always did everything that he could to protect them. Unfortunately, he was married to a beautiful yet vain woman named Cassiopeia. They had a daughter, Andromeda. Andromeda was a beautiful girl who was as beautiful as her mother. However, she was not a bit vain; on the contrary, she was very modest and pure.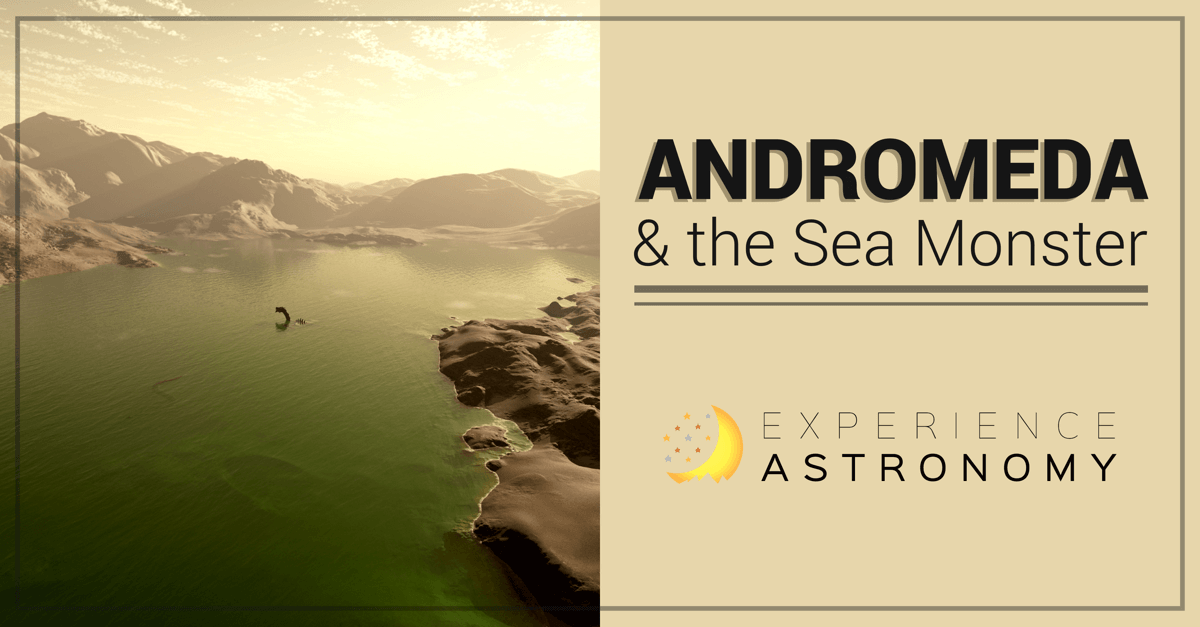 One day Andromeda's mother Cassiopeia claimed that she was the most beautiful woman in the world, even more beautiful than the nymphs and goddesses. This made the god Poseidon very angry at Cassiopeia. In revenge for what she had said, he sent a hideous sea monster to ruin the coast of Ethiopia. When King Cepheus begged Poseidon to stop the sea monster, Poseidon retorted that the only way he would call off the monster was for them to give up their daughter Andromeda. Since it was the only way to stop Ethiopia from being utterly ruined, Cepheus chained Andromeda to a rock not far out in the sea.
Standing on the shore waiting for the sea monster to come, Andromeda's parents looked across the water and saw an object flying towards them, coming nearer and nearer all the time. After awhile they observed that it was a man flying over the water carrying a roundish something. They did not take much notice of this because they were feeling so dismal about what would soon happen to Andromeda. The man who was flying over the water was none other than the marvelous hero Perseus. What he was carrying was the head of the dreadful Gorgon Medusa, whom he had recently decapitated.
Chained to the rock, Andromeda also noticed the man flying towards the shore. Moments later he was right in front of her. Suddenly he stopped and questioned her, asking who she was and why she was chained to a rock. At first she did not answer him, having been taught that girls do not speak to men. But he persisted in asking her. Finally she told him her name and why she was there so that he did not think that she was guilty and being punished for some wrongdoing.
Just after she had explained what was going on, the grotesque figure of the sea monster burst out of the water. Zooming to the shore, Perseus made a deal with Andromeda's parents that if he destroyed the sea monster he could marry Andromeda. Seeing no other option, her parents agreed. Also, he would be a great match for their daughter. Hurriedly, Perseus went back to Andromeda and slayed the fearsome sea monster. He then unchained Andromeda and carried her back to the shore. Shortly after, they were happily married to each other, for Andromeda loved Perseus greatly.
When Andromeda died many years later, the goddess Artemis placed her in the heavens to honor her.
---
This article was written by Rachel, 16, an Experience Astronomy student from Waseca, Minnesota.